Work Without Limits Benefits Counseling assists individuals with disabilities to understand how work earnings or wage increases affect eligibility for public benefits, such as SSI, SSDI, Medicaid, and/or Medicare.
Work Without Limits Benefits Counseling provides
Information on how earnings will affect:

Cash benefits (SSI/SSDI)
Health insurance (MassHealth/Medicare)
Other public benefits (Housing, SNAP, etc.)

One-on-one counseling
Trainings for consumers and providers
If you are looking for work or are working
Work Without Limits 877-YES-WORK (877-937-9675).
If you're not working, but have general questions
Contact Us
If you are currently receiving SSDI and/or SSI due to a disability and have questions about the impact of your work, please contact us:
877-YES-WORK (877-937-9675)
If you are in need of benefits counseling in Massachusetts, there are two programs to assist you in understanding how work earnings may impact Social Security and other public benefits. The two programs are Work Without Limits Benefits Counseling Services and Project IMPACT.
Services include: One-on-one counseling, Benefits Summary and Analysis, Action plan, Follow-up Contact, Resources, and Problem Resolution
Program Service Areas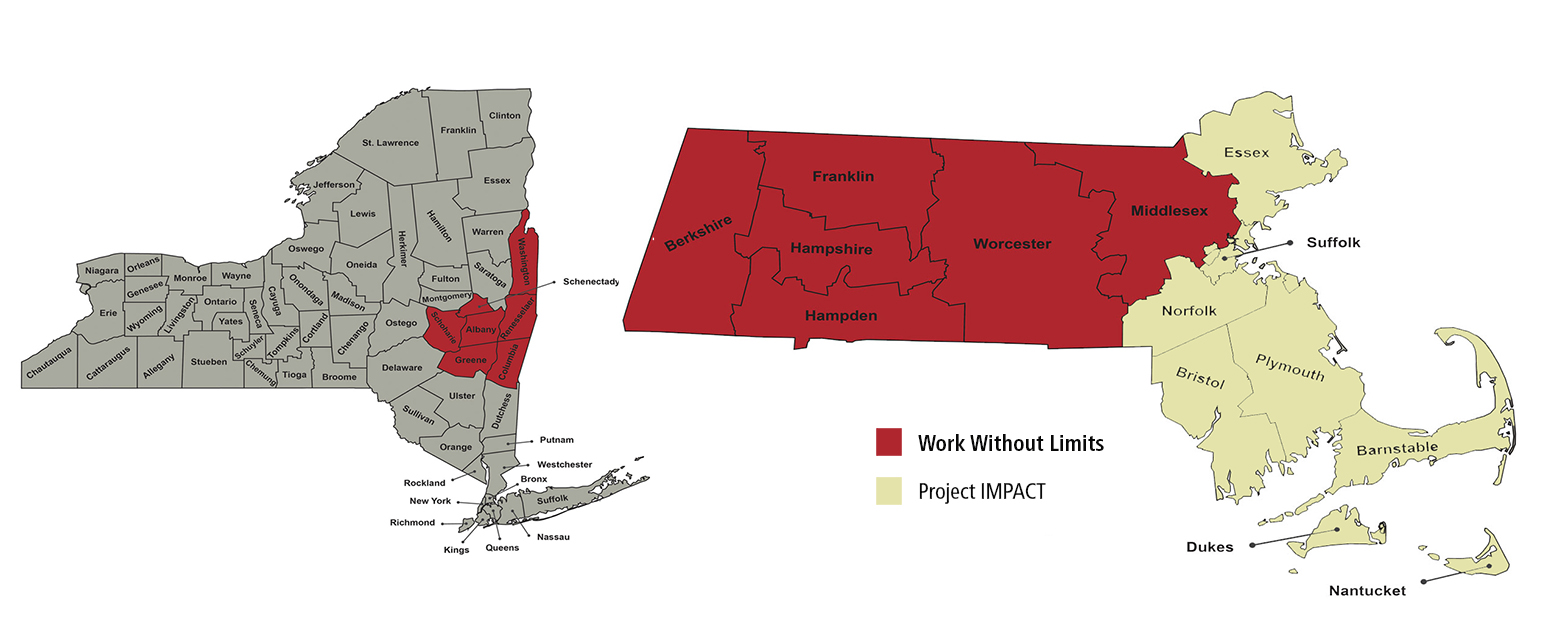 Our team of certified Community Work Incentives Coordinators serve Massachusetts residents in Berkshire, Franklin, Hampden, Hampshire, Middlesex and Worcester counties. We also provide benefits counseling to New York residents in Albany, Columbia, Greene, Rensselaer, Schenectady, Schoharie, and Washington counties. For a list of all the towns covered click here.
If you are a resident of Massachusetts counties: Bristol, Barnstable, Dukes, Essex, Nantucket, Norfolk, Plymouth, and Suffolk, contact Project IMPACT at 1-800-734-7475.
Community Resource Guide (PDF)
This Community Resource Guide provides a brief description and links for each organization and program's website. This is a condensed resource guide, which includes:
Public Benefit Programs
Benefits Counseling
Employment Support Programs
Benefits & Legal Advocacy
Work and Public Benefits Handbook (PDF)
This Work and Public Benefits Handbook contains a variety of fact sheets, including:
General Information
SSI
SSDI
Public Health Insurance
Career Goals
Other Public Benefits
Special Populations
Testimonial
"My Benefits Counselor was easy to talk to, caring, and highly informed. They were very thorough, answered my questions, and encouraged me to follow-up as needed."
– Consumer Testimonial