Work Without Limits Benefits Counseling assists individuals with disabilities to understand how work earnings or wage increases affect eligibility for public benefits, such as SSI, SSDI, Medicaid, and/or Medicare.
Work Without Limits Benefits Counseling provides:
Information on how earnings will affect:

Cash benefits (SSI/SSDI)
Health insurance (MassHealth/Medicare)
Other public benefits (Housing, SNAP, etc.)

One-on-one counseling
Trainings for consumers and providers
If you are looking for work or are working:
Work Without Limits 877-YES-WORK (877-937-9675)
If you're not working, but have general questions:
Ticket to Work help line 866-968-7842 or 866-833-2967 (TTY)
If you are currently receiving SSDI and/or SSI due to a disability and have questions about the impact of your work:
Work Without Limits 877-YES-WORK (877-937-9675)
Creatives Rebuild New York (CRNY), a workforce initiative for artists across New York State, provides artists with employment opportunities and guaranteed income to mitigate the devastating economic impact of the COVID-19 pandemic.
If you are in need of benefits counseling in Massachusetts, there are two programs to assist you in understanding how work earnings may impact Social Security and other public benefits. The two programs are Work Without Limits Benefits Counseling Services and Project IMPACT.
Services include: One-on-one counseling, Benefits Summary and Analysis, Action plan, Follow-up Contact, Resources, and Problem Resolution
Program Service Areas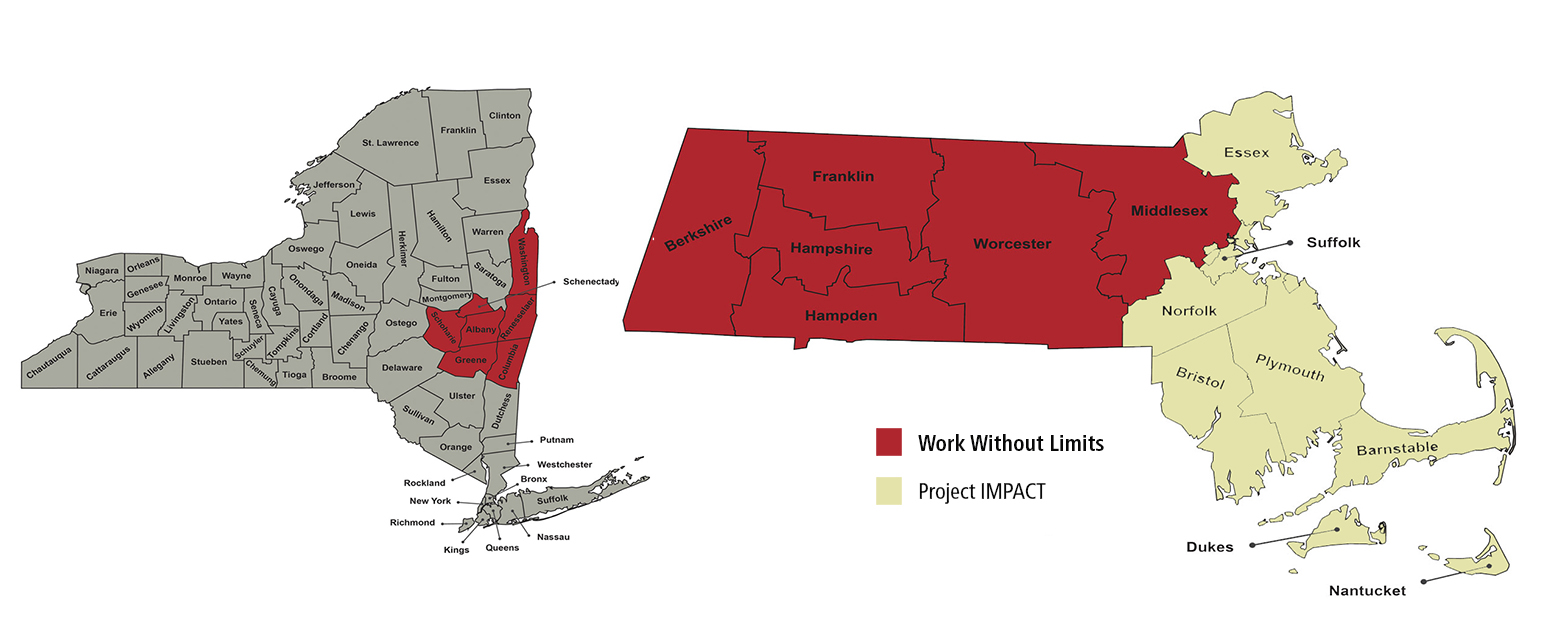 Our team of certified Community Work Incentives Coordinators serve Massachusetts residents in Berkshire, Franklin, Hampden, Hampshire, Middlesex and Worcester counties. We also provide benefits counseling to New York residents in Albany, Columbia, Greene, Rensselaer, Schenectady, Schoharie, and Washington counties. For a list of all the towns covered click here.
If you are a resident of Massachusetts counties: Bristol, Barnstable, Dukes, Essex, Nantucket, Norfolk, Plymouth, and Suffolk, contact Project IMPACT at 1-800-734-7475.
MA counties covered: Berkshire, Franklin, Hampden, Hampshire, Middlesex, and Worcester.
MA counties covered: Bristol, Barnstable, Dukes, Essex, Nantucket, Norfolk, Plymouth, and Suffolk.
NY counties covered: Albany, Columbia, Greene, Rensselaer, Schenectady, Schoharie and Washington.
If you are receiving Social Security Disability Insurance (SSDI) and/or Supplemental Security Income (SSI), you probably have wondered the following when thinking about work:
SSA: The Red Book - A Guide to Work Incentives
The Red Book serves as a general reference source about the employment-related provisions of the Social Security Disability Insurance and the Supplemental Security Income Programs for educators, advocates, rehabilitation professionals, and counselors who serve people with disabilities.
Community Resource Guide (PDF)
This Community Resource Guide provides a brief description and links for each organization and program's website. This is a condensed resource guide, which includes:
Public Benefit Programs
Benefits Counseling
Employment Support Programs
Benefits & Legal Advocacy
Visit the Public Benefits Resources page for fact sheets on:
General Information
SSI
SSDI
Public Health Insurance
Career Goals
Other Public Benefits
Special Populations
"I referred two clients to the service, both were able to make an informed decision about their employment situation. One decided to go for the new higher paying job and one decided to remain in his current employment situation. In both instances the client was empowered to make that decision without reservation which is ideal in a person centered planning model."
- Michael Flynn, The Plus Company
"I was so happy to have clear information from a patient and knowledgeable representative!"
"My benefits specialist provided accurate and timely information in a friendly and respectful manner. I would have no hesitation calling again for support!"
"Brian has gained a reputation with our staff to have answers that cannot be found elsewhere. He is the expert for Veterans with questions around benefits."
"The program is operating as an efficient and well-organized machine. It has been highly critical in making the transition to work an actual possibility for the vast majority of my customers."
"My benefits specialist has made it possible for me to be confident going back to work. I know that I can contact Work Without Limits at any time for assistance with my benefits questions."
"Thank you so much for meeting with me. Our conversation was extremely helpful for me and made me feel much better. It is very reassuring knowing I won't suddenly lose my benefits just for attempting to work.  Thank you also for sharing the summary.  It is very good to have everything in writing."
"I'm grateful for the help from Work Without Limits. My benefits specialist calmed my anxiety and helped me better understand my responsibilities and benefits."
"This should be mandatory for all disabled veterans to go through. It was very helpful and informative."
"This program should be a funded mandate!"
"As an employment specialist, I love knowing that I can just pick up the phone and call Work Without Limits at any time, with any question, and I know with confidence that they will return my call with an answer. Thank you all for what you do. You make a difference every day!"
"My Benefits Counselor was easy to talk to, caring, and highly informed. They were very thorough, answered my questions, and encouraged me to follow-up as needed."
This web page was developed at U.S. taxpayer expense and is funded through a Social Security cooperative agreement. Although Social Security reviewed this document for accuracy, it does not constitute an official Social Security communication.