Consider sponsoring the Virtual Career Fair (date TBD)
for College Students and Recent Graduates with Disabilities!
Career Fair Sponsorship Benefits
Announcement on our homepage banner and social media

Most prominent logo display on this Event page and virtual career fair platform

Logo promotion with every Event communication (including homepage banner, email blasts, and social media)

Pre-event "Message from our Sponsor"

Free participation to recruit at Career Fair

Logo displayed on Sponsors page
Demonstrate your disability inclusion commitment.
We would consider more than one sponsor sharing the sponsorship of the Career Fair. Visit our Sponsors page to learn more about being a Career Fair sponsor.
For more information, contact Kathy Muhr, Director of Community Engagement.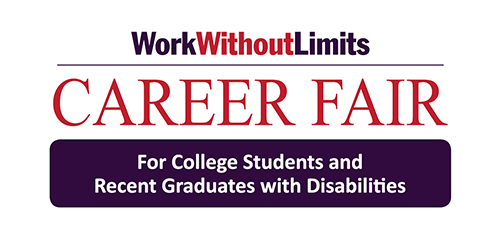 Network with leading employers!

Learn about available internship and job opportunities!

Hone your career development skills!

Attend bonus educational sessions!
Thank you to all for taking part in the February 23, 2021 virtual career fair!
We had 19 employers and over 70 candidates!
"Thanks for putting this together. I've attended a few of these virtual fairs over the past several months and this has been the smoothest experience thus far! I also enjoyed meeting with the folks today."
Participating Employer