Work Without Limits (WWL) is excited to announce that applications are open for the 3rd Annual Disability Mentoring Day (DMD), taking place on Friday, April 27, 2018 in collaboration with the Massachusetts Business Leadership Network (MABLN) and the American Association of People with Disabilities.
Disability Mentoring Day (DMD) is a large-scale national effort to promote career development for candidates with disabilities through hands-on career exploration and ongoing mentoring relationships.
How does it work?
Mentees are job seekers with disabilities who are 18 years or older and who are seeking to gain exposure to a professional working environment.  Each mentee completes an application where they are asked to provide information on their career goals and aspirations. Based on their answers, the mentee is paired with a mentor who works in a career that is similar to the mentee's career goal.  On the actual Disability Mentoring Day, the mentee goes to the selected company for the day to meet their mentor and learn about the necessary skills needed for that particular role.
Companies who host the mentees are members of the MABLN, an association of businesses and employers that are committed to including people with disabilities in their workplaces.  Mentors from these companies are identified and matched to mentees according to career tracks and interests. The employers and mentors who participate in DMD are proven disability employment and inclusive hiring champions, and are eager to welcome mentees!
What are possible activities that may happen on DMD?
It's possible that only one mentee will be matched with a company, but it is more probable that there will be a small group of perhaps 3-5 mentees at each company. Although each company is encouraged to get creative with the structure of their DMD, there are many agenda similarities across companies. A typical day might include:
Welcome and Mentor/Mentee Meet & Greet
Company Overview
Facility Tour
Application and hiring process overview with Human Resources
1:1 mentor/mentee job shadowing and meeting time
Lunch 1:1 with mentor or in a small group
Mentees should plan to take part in all aspects of the Mentor's work day, whether it be attending meetings, participating in conference calls, running a cash register, or one of the many other activities.
DMD is a great opportunity for mentees to learn about the culture of a particular company, to get hands on experience in a particular field, and above all, to build a professional network that they can leverage as they transition into work and throughout their careers!
In the pilot year of DMD (2016), 29 mentees and 10 employers participated. In the 2nd year (2017), 43 mentees and 9 employers participated. For our current year (2018), there are 7 employers participating. These companies include: Eastern Bank; Federal Home Loan Bank of Boston; John Hancock; MassMutual; National Grid; TJX Companies Inc.; and UMass Medical School.
How does one become a Mentee?
Mentees can refer themselves  or be referred by WWL Community Partner Organizations that include Asperger/Autism Network (AANE); Berkshire Works Career Center; Bridgewater State University; BU Center for Psychiatric Rehabilitation; Carroll Center for the Blind; Community Work Services; Epilepsy Foundation of New England; Quinsigamond Community College; Massachusetts Commission for the Blind; Partners for Youth with Disabilities (PYD); Regional Employment Collaboratives; Triangle; and Work, Inc. Special thank you to our community partners for actively promoting DMD and sourcing mentees!
What do prior participants have to say about their experience with DMD?
In 2017, 96.3% of mentees thought they were matched successfully and 93.5% of mentors thought they were matched successfully.
Mentees who have participated in DMD in prior years have told us that their favorite part of DMD was:
"Meeting with my Mentor privately was a great opportunity I never could have realized without the creation of this day."
"Five complete hours of enjoying the working experience with motivation galore from great hands-on exposure to kind hearted people who went out of their way to make me feel right at home!"
"My favorite part of the day was meeting other mentors and seeing what they did for jobs."
"Getting to know people in the departments, press room and consumer line. Also getting to meet the incredible Attorney General Maura Healy."
"My Mentor was very professional, and his current research project is related to my professional background."
And Mentors told us:
"My mentee's professional interests allowed us to explore how my role and career path could provide some valuable information for consideration in his career path goals."
"We had three wonderful Mentees who were a great match for the office and made all of our efforts worthwhile. We felt like we hit the jackpot with the matches!"
"I see benefits of working with someone with autism, and that those benefits can outweigh the drawbacks!"
"The purpose of DMD is to encourage a person to participate in the world- introduce them to the work world. You do not need to know their disability to do that. "
"DMD taught me how prepared and qualified individuals with disabilities are to work with, in some cases with little accommodation."
"My mentee was absolutely delightful and was engaged throughout the day. He was very eager to meet and talk to as many people as possible!"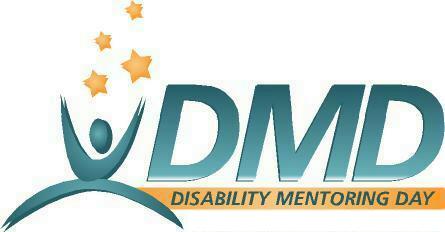 It's not too late to apply for DMD
but slots are filling up quickly!
Deadline to apply is next Friday,
March 23rd. Sign up here!